By Heather Russell – from her garden in Bolam, Northumberland.
Now that we have decided not to open the garden any more – except to friends and Hardy Planters – I feel free to make changes in order to reduce the maintenance.
I enjoy working in the garden whenever I can, and often wonder what people do with their time if they don't have a garden. I certainly hope that I will be fit to keep gardening for many years to come, but I admit that I cannot do what I used to do. And I want to spend my time doing the more enjoyable tasks.
So, I am working on eliminating the more labour intensive parts but still trying to keep the planting interesting. For some, shrubs are the answer, but they need regular pruning after flowering and a good reduction from time to time, to prevent them taking over the garden. I can remember in the early days, wondering where herbaceous plants had gone, and realising shrubs had gobbled them up, taking their light and moisture.
I have just cleared out a flower bed, and have a vision of grasses with a few easy going flowering plants needing minimum support, and a few shrubs to screen cold frames and serve as background to the planting.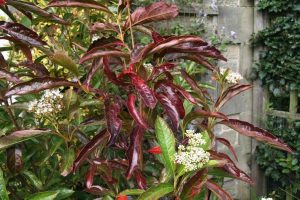 A Viburnum nudum having outgrown its space, was carefully clipped back and moved. The leaves have a newly lacquered look red in autumn and, IF it flowers, lime berries, turning red and black.
Rescued from its pot, Physocarpus 'Diable d'Or' with dark foliage but red/gold new growth, should work well with the Cercidiphyllum japonicum bought on a recent October visit to Scampston Hall. We have the choice to keep it shrubby, or let it slowly grow into a medium sized tree.
I love the spring and autumn colours of the heart shaped leaves. The established trees in the Piet Oudolf planting there were very colourful, scenting the air with their characteristic burnt toffee smell.
My choice of flowering plants is based on a recent awareness that the summer garden is dominated by mauve/pink and purple, so this new planting will feature white, yellow and rust flowers – but just a few. I want to keep it simple.
Grasses will bind the elements together, their neutral colours and flowing foliage weaving their magic. I have a couple of tall new ones to try but will also be splitting shorter varieties for 'ground cover' with a difference. Grasses are my easy care plant of choice these days and I just hope that they don't let me down anytime soon!