By Heather Russell – from her garden in Bolam, Northumberland.
Ray Stevenson gave us an interesting talk on succulents at the last meeting, and I was surprised that many plants I knew as 'Sedum' now had new names. Evidently most are wrongly named in the garden centres, so I guess that we will not learn their new classifications any time soon!
You could say that it doesn't matter what you call it, a good plant is good whatever its name. But correct classification is essential to identify and source particular plants, so we can't really ignore it.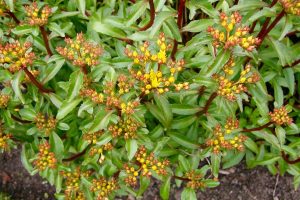 I grow and can recommend a plant I know as Sedum aizoon, now evidently, Phedimis aizoon. It forms an upright clump about 15" high, with serrated leaves and attractive yellow/orange flowers.
If I remember and recommend it to fellow gardeners as Phedemis, it is highly unlikely to be found under that name in a nursery, so I will probably continue to use 'sedum'. It's easy to see why name changes take so many years to establish.
Spring is the time to split sedums, and early summer to take tip cuttings. This week I have used a fork to split chunks off a mature Sedum 'Karfunkelstein' rather than uproot the whole plant, hoping to curb its vigour and prevent splaying in summer, as well as making new plants.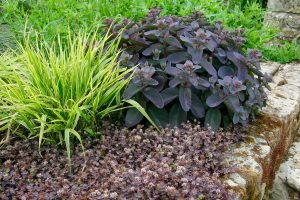 It has been suggested that driving a spade down the centre of a clump, or the old gardener's trick of 'cracking' the plant – lifting the plant with a fork until roots snap – will also do the job. I suppose that damaging the plant curbs its growth, saving the time and effort of digging up, splitting and replanting. Has anyone tried this?
Sedum telephium 'Karfunkelstein' is one of the very best, forming a neat mound approx. 15"H of green blue fleshy leaves with a purple tint, maturing to a dusky, dark beetroot by mid summer with pink flower clusters. A mature plant may eventually splay open but it is far less prone than most.
And guess what, it's new name is Hylotelephium 'Karfunkelstein'!